Credit: Business Insider
Turkey Trot in Greenwich
There is no better excuse to get outside to give back. The Turkey Trot, which just held its 11th annual event, is a fundraising event to support the Greenwich Public School system. Its programs include grants to help innovative programs within the schools, free music lessons to students who can't afford them, and the AVID program, which addresses the opportunity gap in early childhood education.
Registration for the event costs $15 for children 13 and under. Adult pricing varies depending on when you register; before November 1st, adults pay $30; through November 26th, it is $35, and on the day of the event, it is $40. Note this is the pricing for the 2021 event and future events are subject to change. All proceeds go directly towards funding the above programs and bettering the school system as a whole.
The event includes a one-mile and 5k run/walk. Everyone in both races receives a performance t-shirt before the race, a medal upon completion, and food and beverages from the hospitality tent. Top finishers in the 5k also receive awards and merchandise prizes. In addition, the Greenwich school with the most participation will win a $500 gift card for new PE equipment.
If you do not wish to walk or run but would still like to participate, you can always become a sponsor or sign up to volunteer at the event.
Hike at the Audubon
The Greenwich Audubon is a great place to escape into nature and take in the gorgeous scenery the area has to offer year-round. Their mission is to give guests a sneak peek into the lives of the birds who inhabit the area while educating them on how to best protect and preserve their habitat. They have seven nature sanctuaries available to the public 365 days a year from sunrise to sunset. While the trails are technically free for use, they do ask that you give a $6 donation to help keep the areas available to guests for years to come.
Their center has trail maps and the book Walking Trails in Greenwich and the Surrounding Areas to aid you in your hike. You can also choose to participate in Letterboxing, an activity sheet that provides clues to find hidden boxes along the trails. Each box contains a stamp that you can add to your sheet, as well as fun facts about the animals, plants, and habitats of the area.
To help preserve the areas, they do ask that there be no bikes, pets, or horses on the trails, that no garbage is left on the trails, that jogging is kept two only a few individuals, that you do not pick flowers and plants or disturb the wildlife, and that all hikers stay on the pathways. This is a great activity to enjoy solo, with friends, family, or significant others.
FirstLight in Old Greenwich
The First Light in Old Greenwich is a ceremony that honors the local first responder's efforts, and it's the perfect way to ring in the holiday season. Held this year on December 4, the event is planned by the Old Greenwich Merchants Association and starts with the lighting of luminaries along the footpaths of Binney Park as well as speeches made by the Police captain and various citizens of the city.
Here, you'll enjoy live music, including local bands, singers, DJs, and even bagpipers, to keep you entertained as you stroll the streets. Local businesses provide food and drink, and you can even take a carriage ride to relax while you enjoy the atmosphere and night air.
The evening is concluded with a champagne toast to the emergency service personnel at the event. This is an excellent way to see the town and enjoy the decorations and feeling of the holidays, all while paying tribute to the men and women who put everything on the line to give you the ability to be there.
Holiday Shopping on Greenwich Avenue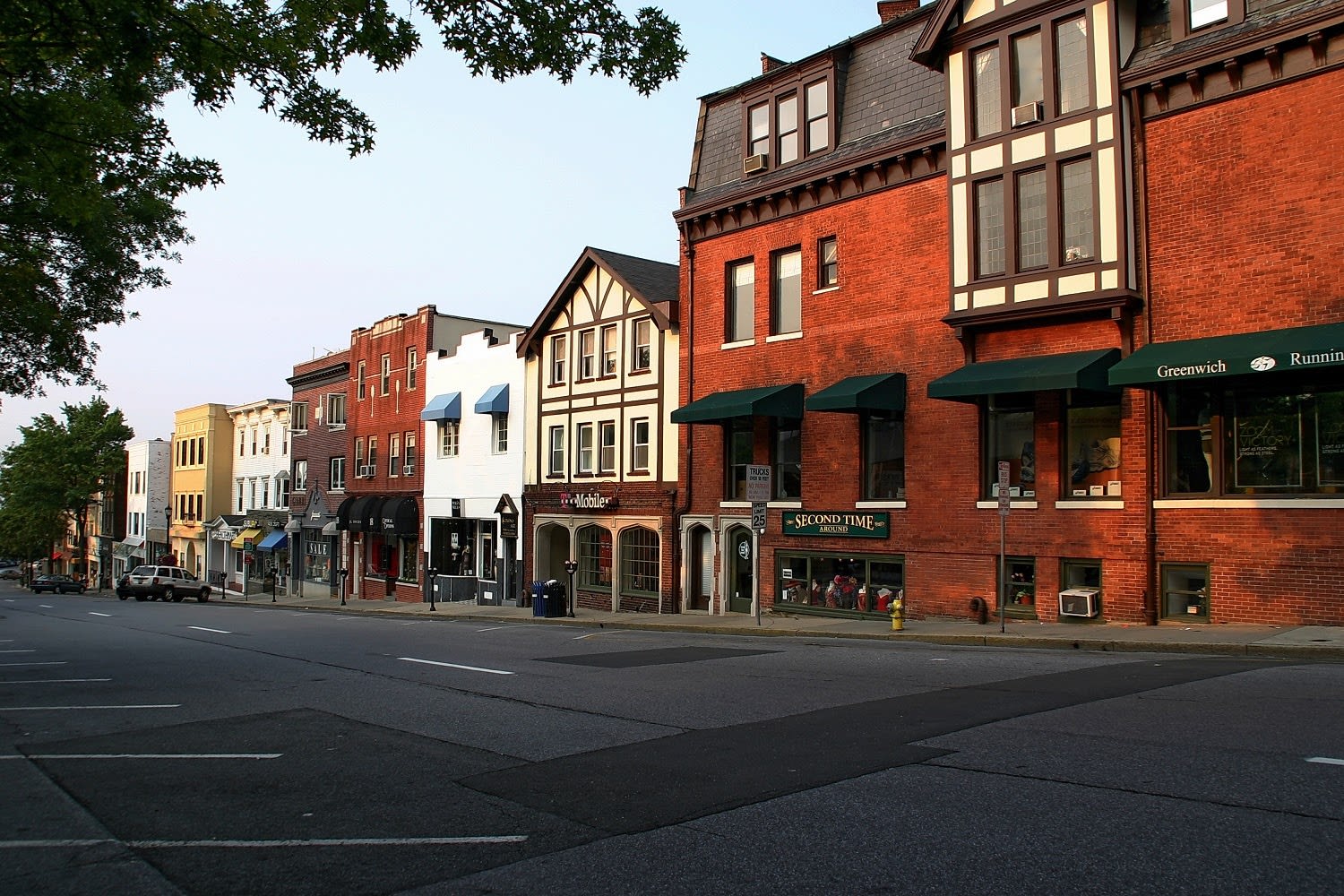 Credit: Stanton House Inn
If you are the type of person who still goes out to shop in person for the holidays, there is no better place to do so than along Greenwich avenue. They have tons of festive shops, all decked out with amazing window displays and items that anyone would be happy to be given for their holiday gift. Some of the stores will even wrap the present for you to make your life that much easier.
Find uniquely exquisite jewelry and timepieces at Manfredi Jewels. Since 1988, they have housed pieces from the finest brands, including Bulgari, Rolex, Roberto Coin, Hermes, and even Manfredi exclusive creations. Not only a luxury shop, but the helpful, knowledgeable staff are experts in repairs, handcrafted pieces, diamonds, and historical knowledge of the industry.
Out of the Box has won Best of the Gold Coast four years in a row! Here you will find unique gifts, accessories, and clothing for the ladies on your shopping list. In addition, they invite designers and artisans to showcase their creations and even have their own Out of the Box label and jewelry.
Since 1937 Hoaglands of Greenwich has been the destination for home decor, entertaining needs, and luxury gifts. Whether you need seasonal offerings, a wedding registry, or something for your own home, Hoaglands is the place to visit.
Awarded Home Fashions Products Association Retailer of the Year in 2003, Lynnens provides the finest in American-made and international soft goods for the home. In addition, they offer a plethora of linen varieties and even offer custom embroidery and monogramming to add that special touch!
A stroll down Greenwich Avenue while window shopping is the perfect way to spend a chilly day.
Reindeer Festival and Santa's Workshop at Sam Bridges
This year marks the 13th annual Greenwich Reindeer Festival and Santa's Workshop. The event runs from November 26th through December 24th, Mondays through Saturdays from 8:30 AM to 6 PM. Santa is there from 12 PM to 6 PM on Mondays through Fridays, 9 AM to 6 PM on Saturdays, and 9 AM to 3 PM on Christmas Eve.
At the event, you can enjoy the fantastic decor of Santa's workshop, get your picture taken with the man himself, and even get to meet real-life reindeer! Photo packages range from $37.99 to $57.99, and a portion of the profits from the Santa photos is donated to Kids in Crisis, and a Kids in Crisis giving tree is available for people to help support the mission. You can also bring your furry children to sit and take a picture with Santa — they will give a doggie gift bag, compliments of the Cornell University Veterinary Specialists every Monday, Tuesday, and Wednesday.
The workshop also features fun activities for your little ones, including a reindeer coloring station, letter writing to Santa, and a name the baby reindeer contest. There is also a raffle where the winner will take home a Mercedes-Benz peddle car! Parking is free at the event so make sure you head down to get your full dose of Christmas cheer!
Holiday Market at Stamford Museum and Nature Center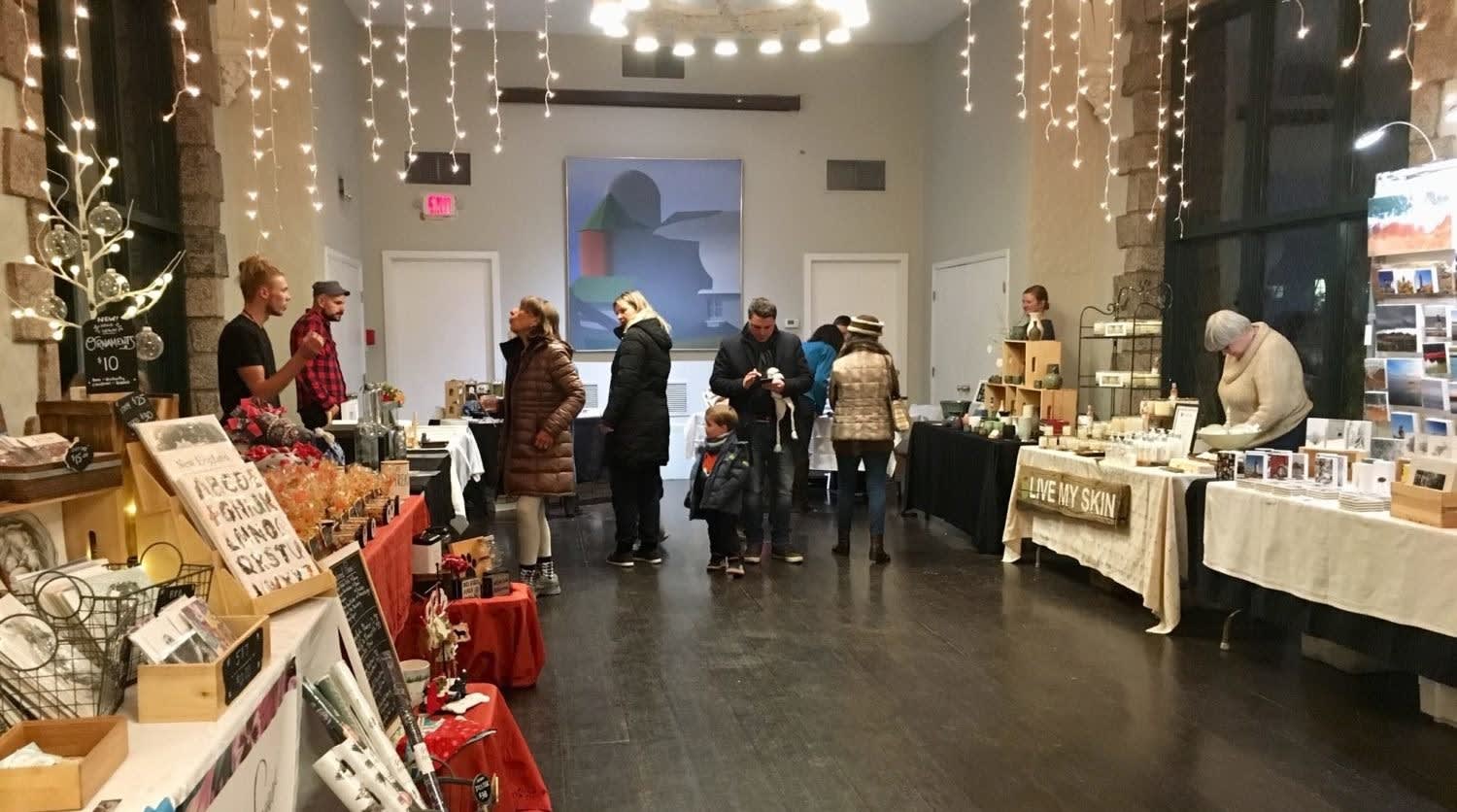 Credit: Stamford Museum and Nature Center
The Holiday Market is another great spot to finish up your holiday shopping. The market features hand-crafted work from local artists, including candles, soap, body scrubs, skincare, jewelry, ceramics, woodworks, essential oils, photography, illustrations, honey, and tea.
There is also a meet-and-greet with artist Jacques Pépin who currently has an art exhibition at the museum. In addition to meeting the artist behind the work, he is also signing commemorative exhibition posters available for purchase.
Greenwich High School or Brunswick Football Game
Support local high schools and their sports curricula by spending Friday nights under the stadium lights. Both Greenwich and Brunswick High Schools have outstanding football teams that are exciting to watch. You may even be watching the next NFL superstar! So, put on your warm clothes, wear some team colors, and go show your support to your local teams. You can find both teams' schedules via their individual websites: Greenwich, Brunswick.
If you are interested in Greenwich, CT. real estate and homes for sale in Greenwich Ct. contact Krissy Blake to set up an appointment and start filling your calendar with all of these fantastic events!