Welcome to
Greenwich/Downtown Greenwich
The town's city center combining notable dining and retail, international commerce, waterfront views and a variety of residential options.
Greenwich/Downtown Greenwich offers not only a well-rounded city business center, but also includes the famed Greenwich Avenue shops and restaurants as well as the Greenwich Hospital and Greenwich Library. The area also encompasses four peninsula neighborhoods: Belle Haven, Indian Harbor, Mead Point and Byram. With beautiful architecture from a range of styles, Greenwich has a diverse landscape and a home to fit anyone's tastes.
What to Love
Grabbing a coffee to-go on the Avenue.

Cosmopolitan atmosphere with a historic ambiance.

Picturesque scenery and tree-lined streets.
Local Lifestyle
Greenwich is a cosmopolitan area, offering diversity as well as a commercial hub with plenty of businesses, restaurants and shops to visit. Perfect for families, retirees and young professionals alike, Greenwich supports multiple different lifestyles. Explore gorgeous properties like 66 Mooreland Road by reviewing our active listings.

Dining, Entertainment & Shopping
Greenwich/Downtown Greenwich is home to several great dining and shopping destinations. Known for its eclectic eateries and outstanding boutiques, Greenwich/Downtown Greenwich has stores and restaurants perfect for anyone's taste.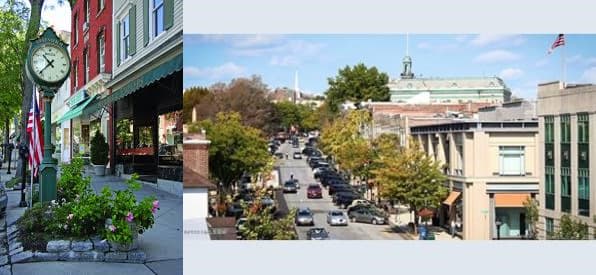 When looking for a special dining experience here, one popular option is Rebecca's Restaurant, which offers inventive modern American cuisine. It is run by husband and wife team Rebecca Kirhoffer and Reza Korshidi. Thomas Henkelmann Restaurant. Located within the luxurious Homestead Inn, Thomas Henkelmann Restaurant is an upscale French restaurant that serves contemporary French fare created by Chef Thomas Henkelmann. Another great restaurant in the area is L'Escale Restaurant, located within the Delamar Hotel L'Escale Restaurant is a Mediterranean restaurant serving fine French cuisine and elegant cocktails with waterside seating available. Greenwich's thriving culinary scene leaves nothing wanted — if you crave it, you'll find it among this outstanding menu of eateries.
Greenwich Avenue is also home to numerous upscale retailers, including Richard's, which is a multi-level shop offering upscale men's and women's clothing, shoes, and accessories. Whether you're searching for something sparkly at Tiffany & Co., reimagining your home with fine furnishing from RH, or browsing any of Greenwich's spectacular locally-owned boutiques, you'll never tire of window shopping in this bustling community.
Things to Do
Greenwich also has plenty of activities to enjoy. Whether you want to spend time outside at a local park or you want to enjoy an event in the area, there is something perfect for everyone in Greenwich.
Greenwich Wine + Food hosts several events throughout the year, including a large festival in the Spring. Aside from highlighting the area's incredible food and drinks, the Greenwich Wine + Food festival also hosts live music and live cooking demos. The Greenwich International Film Festival is an annual film festival celebrating the visual arts, held every June with several smaller events spread throughout the year. Puttin' on the Dog is a great event to find a new furry friend and supports local animal shelters. Held in Roger Sherman Baldwin Park, Puttin' on the Dog also hosts competitions, a silent auction, food trucks, and more. The annual Greenwich Town Party is a highlight. Created as an annual celebration for the people of Greenwich to come together and participate in a day of music, food, fun, family and friendship to experience the strength of community.
Greenwich also has several fantastic places to spend a day, including parks and cultural spaces. The Bruce Museum is an art, science, and natural history museum with over a dozen revolving exhibitions throughout the year and permanent exhibitions focused on natural history. For a day outside, Bruce Park is a popular destination with plenty to do and see, including ponds, tennis courts, ball fields, and much more.